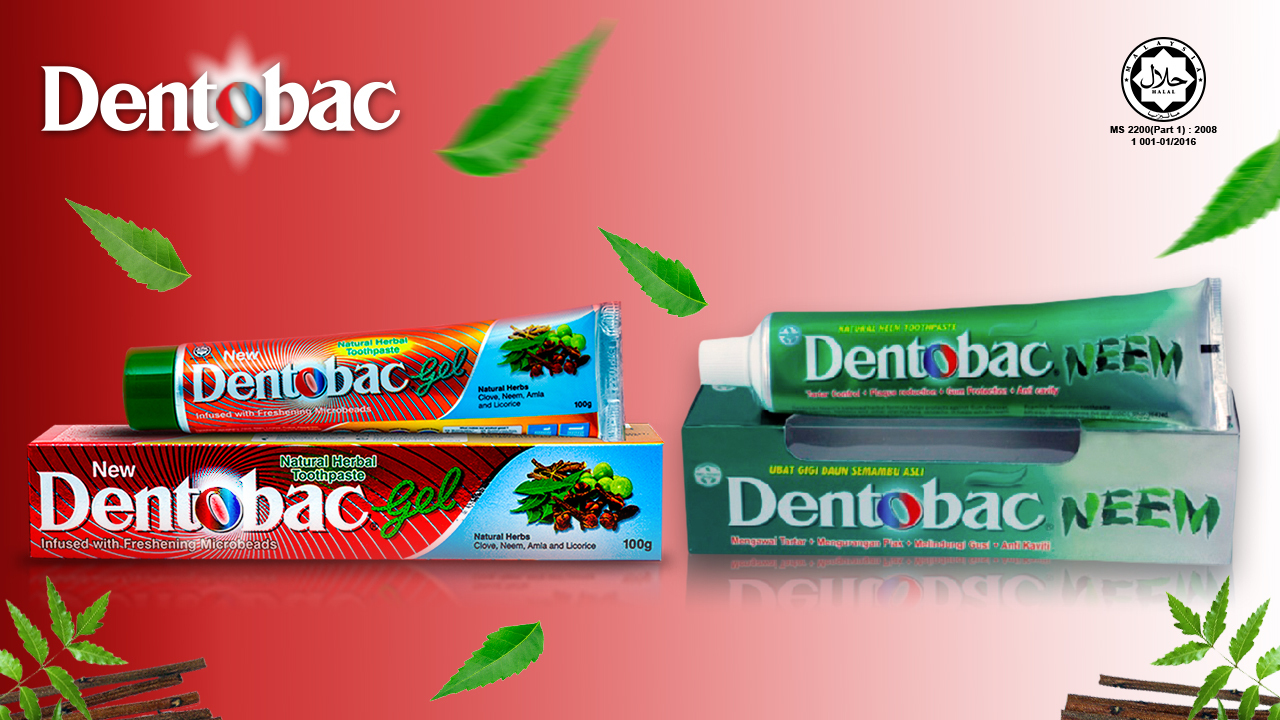 An abstract of Neem
Neem is a natural herb that comes from the Neem tree and also known as Azadirachta Indica. The Neem leaf, bark and seed are commonly used in medicine. In the olden days, even the Neem twigs were popularly used as toothbrushes.
Is Neem toothpaste safe to use?
Neem is good for health at the same time, using Neem toothpaste regularly is more effective for cleansing and helps in the cleanliness of your mouth.
Today we have so many choices like Dentobac Gel toothpaste which has Neem, Cloves, Amala, Licorice. These ingredients prevent toothache, bleeding gums, and plaque by using this regularly it gives you shining teeth, tightening gums, and fresh air in the mouth.
Dentobac Gel toothpaste and Dentobac Neem toothpaste have all-natural healing powers and it is recommended to use.
" The smile is the prettiest thing you can wear" use of neem in dental care supports make your teeth stronger and healthy.
Neem can be used as an insecticide
By nature, the Neem has the substance of killing bacteria and chemicals which help prevent plaque and tartar forming in the mouth.
Nature's toothbrush
As mentioned earlier, Neem twigs were popular in olden days. People use Neem twigs instead of a toothbrush, by chewing Neem twigs it's good for dental health as the anti-substances secured from dental infection and some gum disease.
Benefits of Neem in dental health
Cure gum disease (gingivitis)
Prevent plaque and tartar forming in the mouth
Improve the immunity level in the mouth
Take care of your teeth and mouth
In general, taking care of your teeth and mouth enhances health throughout your life. Here we go with tips to clean your teeth and mouth:
Brush your teeth twice a day.
Avoid smoking and tobacco as it spoils your teeth and health.
Is using Neem necessary for teeth and gums? 
Yes, neem was highly regarded for years for its medicinal properties. Neem has strong active compounds that help and protect cure a variety of dental issues. This is how Neem can make your oral health better. If it comes to dental hygiene Neem is best known for destroying bacteria, the decay of the tooth and gum.
Brushing with Neem toothpaste can eliminate caries, minimize plaque deposition and improve the overall oral health immune response. Regular use of Neem extract mouthwash can reduce gingival issues and cure halitosis as well. Neem is capable of preventing Streptococcus mutans and Streptococcus salivarius, important causes of cavities.  Therefore, it has antimicrobial and anti-cariogenic properties.
Dentobac has a range of products for both oral and personal care try all our products and include in your daily routine. To have a clean and natural smile start using Neem toothpaste. If you're ready for a clean smile and natural routine of oral hygiene, try our Neem toothpaste. Check out our Dentobac Neem toothpaste and Dentobac Gel toothpaste, the ingredients used will help you lead healthy dental hygiene.
Keep smiling always and stay healthy!
Follows Us on
Facebook: Dentobac
Instagram: dentobacmalaysia
Youtube: dentobac